Numerous households worldwide suffer from hard water issues. This problem occurs when the water has increased percentages of magnesium and calcium. Such issues can not only cause problems in your plumbing and appliances but to your skin and overall health as well.
The solution for this headache is getting a water softener. But which one to choose? Now, this might present itself as a challenge, since there are so many options available on the British market nowadays, and all of them offer you similar features.
In order to assist you in this endeavor, we have put together a list of the best products and guidelines you should follow to get the best possible product for your money's worth.
List of Best Water Softener in UK
1. Water2Buy W2B200 Water Softener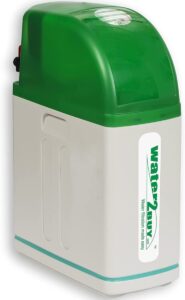 Water2Buy has built its name over the course of years for producing highly efficient water softeners. This plastic unit weighs roughly 18 kg and is definitely worth every penny you invest. It fits easily under kitchen sinks and grants you high-quality performance.
Installing it is very simple, and you will not require any plumber assistance to do it. The manufacturer's instruction manual covers the installation process in detail and provides you with enough information to do it yourself.
This water softener is salt-based, so maintenance is straightforward. All you need to do is to clean the product and replace salt regularly. W2B200 is compatible with any type of salt so, pick whichever type you prefer and add it to the unit.
The motor is very quiet, and the product does its job silently and automatically. It does not require constant monitoring, so leave it to do the work and check for salts as the need arises. That's why this is our top pick in the UK.
Pros
Simple installation
Any salt can be added to unit
Works quietly
Easy to maintain
Cons
The product might not suffice for bigger families and households
2. BWT WS455 Hi Flow Electronic Demand Block/Tablet Water Softener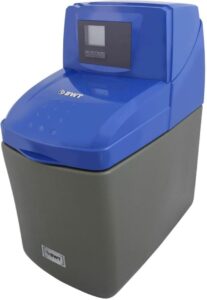 BWT WS455 is excellent water softening option. It is very user-friendly and an exceptional choice for bigger families and households. It will fit easily in your kitchen cupboard, and you get an installation kit with the product, alongside the manual, to install it easily and quickly.
This product has an advanced memory function that allows you to program its regeneration cycle to your usage patterns. The resin bed will regenerate evenly and efficiently since the product reverses the flow of water.
BWT WS455 will only regenerate the part resin bed that is used, and therefore, it will not waste salt and water, which contributes even further to its efficiency.
Pros
Does not waste water and salt
The regeneration cycle can be programmed to your usage patterns
Includes installation kit
High capacity
Cons
At flow rates under 10 litres per minute, water hardness might not be effectively removed
3. 12 Litre DVA Water Softener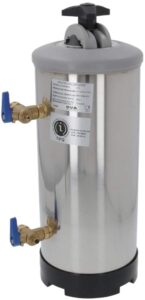 Coming from the DVA store, this water softener is known for its quality, reliability, and safety. It weighs 9.5 kilograms and has a resin capacity of 9 litres and salt capacity up to 1.5 kilograms.
It effectively prevents the formation of limescale deposits that hard water can cause. It is simple to install and cost-efficient. It is effective when used in coffee makers, steam cooking ovens, dishwashers, and vending machines.
The process of resin regeneration takes between 20 and 40 minutes. The first use does not require you to add salt, which is only used to regenerate the resin. If you use the product only as a water supply for the dishwashing machine, you can take the top off and add salt without going through the whole process.
Pros
Quality stainless cylinder
Resin is included
Cost-efficient
Robust construction
Easy to install
Cons
Capacity might not suit your needs
4. Little Plumber – LP1 Water Softener and Electronic Descaler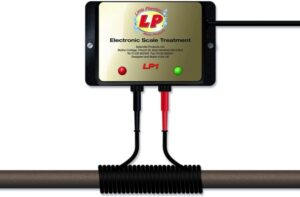 The LP1 electronic water softener is an excellent cost-efficient solution for households that have between 1 and 4 bedrooms. It softens hard water, removes limescale, and prevents its reappearance.
The product is very easy to install and does not require any maintenance. The LP1 water softener will prolong the lifespan of your appliances and plumbing. The way this product works is by sending the low radio frequencies that break down limescale and prevent it from forming again.
You install this product by wrapping coils around cold water pipes and plugging them into a three-pin electrical socket. Once the softener starts taking effect, you will notice the difference very fast. It is especially kind to your skin, granting you higher water quality.
Pros
Low price
It covers big households that have between 1 and 4 bedrooms
Disintegrates limescale using low radio frequencies
Healthier hair and skin with softer water
Cons
The instruction manual might be unclear on some points
5. Waterdrop Reverse Osmosis Water Filtration System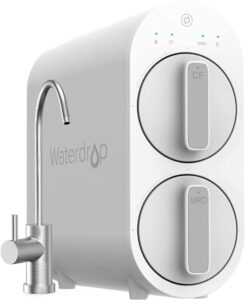 This Waterdrop filtration system is among the easiest to install. You do not require a plumber for it, and all it takes is for you to have elementary DIY skills. The only part of the installation that might prove a challenge is drilling the hole in the sink or countertop necessary for the filtered water faucet.
This product is highly efficient and creates about 1 gallon of wastewater for every gallon of pure, filtered water. The amount of waste largely depends on the pressure of the water that enters the system – higher pressure equals less wasted water.
The maintenance is very simple and does not require you to turn off the water supply. Simply twist and take out the old filter, push the new one inside and twist it to lock it down. The integrated feedback systems allow you to monitor the status of filters and water, so you will always be aware if you need to replace a certain part.
Pros
Easy installation
Maintaining filters is fast and easy
Filters water at 1:1 ratio
Cons
It is pricier than some competing systems
6. AquaHomeGroup 15 Stage Shower Head Filter with Vitamin C for Hard Water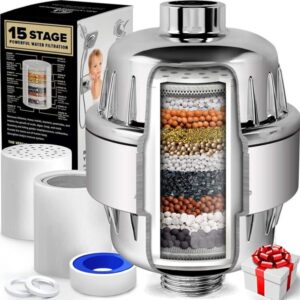 AquaHomeGroup shower head is excellent filtration for hard water and delivers you fresh, chemical-free water without scent. It is highly efficient and has 15 stages of filtration that are very kind for your skin, nails, and hair.
Filters on the shower head remove chlorine, fluoride, heavy metals, and other debris. When you compare it with other shower filters on the market, AquaHomeGroup one is an absolute bargain considering the price and quality.
The showerhead is rich in vitamin C and prevents eczema, dry and itchy skin, and dandruff. It is safe for kids', pets', and adults' skin.
The installation is very easy, and the product can be used on universal shower filters, combo, and wall-mounted showers. The product is very versatile, and it can help in removing rust and iron. It will soften the water and leave less bathtub residue. The product also acts as a moisturizer and purifier.
Pros
Installation is very easy
The product is universal and can fit most types of showers
Apart from softening the water, it also acts as a moisturizer and purifier
Cons
Instructions could be more descriptive
7. Olympia 3-in-1 Filter and Water Softener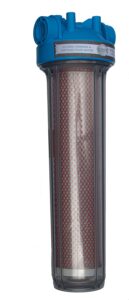 Coming from Little Plumber Water Products, this 3-in-1 water softener offers you excellent water quality, removes hardness alongside harmful substances and heavy metals. Unlike other salt-based water softeners, Olympia 3-in-1 will leave Calcium and Magnesium in water in a non-invasive crystalline state.
A qualified plumber should do the installation since this product gets installed into the water supply line for your whole household.
This water softener will remove heavy metals, radioactive materials, chlorine, sand, any type of dit, aluminum, iron, or pesticides. Once it does the job, you will have a healthy supply of water for drinking and showering.
The way the product works is through "ion exchange." The whole process does not require any salts and still has an amazing effect. It will benefit your health as much it will do wonders for your appliances and plumbing.
Pros
Keeps healthy minerals in the water in the crystalline state
The softening process does not require salts
Various health benefits
Cons
Installation and maintenance might be tricky and requires a qualified plumber
8. Stuart Turner – Stuart ½" Mini Catalytic Water Conditioner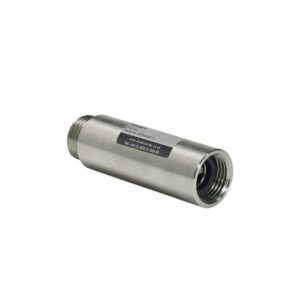 This mini water conditioner is designed to prevent hard limescale from forming. The way the product works is that it causes the calcium carbonate to advance into microscopic crystals. Afterward, the crystals will float and will not attach to any surface, resulting in clean appliances and showerheads.
The product is environmentally friendly and does not use chemicals and salts to soften the water. It does not require any maintenance, so long-term using the product is cost-efficient. The design is compact, and it installs easily in line with a single appliance or shower hose.
Pros
It does not require salts
It does not require maintenance
Compact and easy to install
Unobtrusive
Buying Guide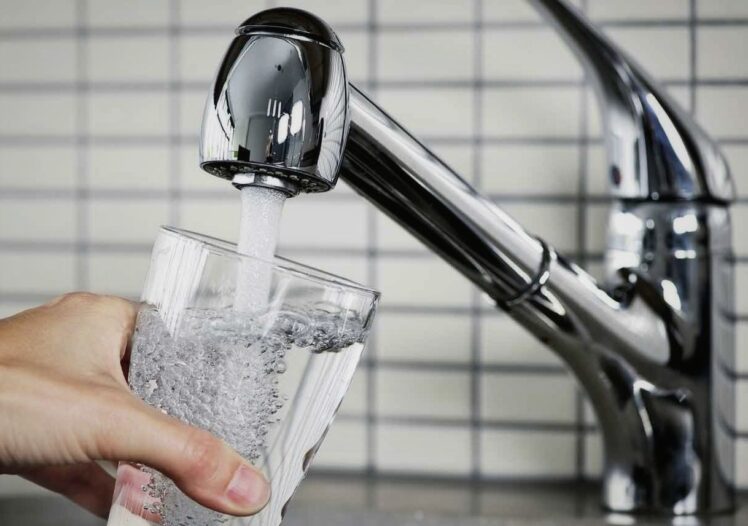 Picking the right water softener might prove a daunting task. There are various products on the market, and choosing the right one among the numerous similar features is problematic enough.
Once you manage to narrow down your search, it is important to know what features tip the scales toward the high-quality product. In order to help you with this, we have assembled a buying guide you should follow to get the best possible water softener with an appropriate price/value ratio.
Grain Rate
Grain rate is a very important factor to consider when purchasing a water softener. This rating determines how much water can be softened before regeneration is required. To pick the product with the appropriate grain rate, you need to find out how hard your water is and how much water your household uses per day.
Once you get these two numbers, multiply them, and you will get the amount of grain your softener needs to remove daily.
Flow Rate
One of the first things you should know about water softeners is that low grain rate equals low flow rate. If the flow rate is low, it means that you will not be able to use multiple faucets at once, so make sure to purchase the product that offers a high flow rate.
Controls and Information Access
Go for the softeners that have an LCD that enables you to control the hardness of water and manage salt levels. This way, you will be able to manage your softener easily and not waste salt, which will pay off long term.
Size
The size of the softener is very significant. Some types are huge and can take up much space, while others are small and can fit easily under the kitchen cupboard. Consider where you need a water softener installed to correctly manage the space and pick the appropriate size.
Installation
If you plan to install the water softener all by yourself, make sure to read the manufacturer's manual to see if you can do it properly. Once you purchase the product, make sure that everything is included in your installation package; otherwise, you will likely need to call a professional plumber.
Frequently Asked Questions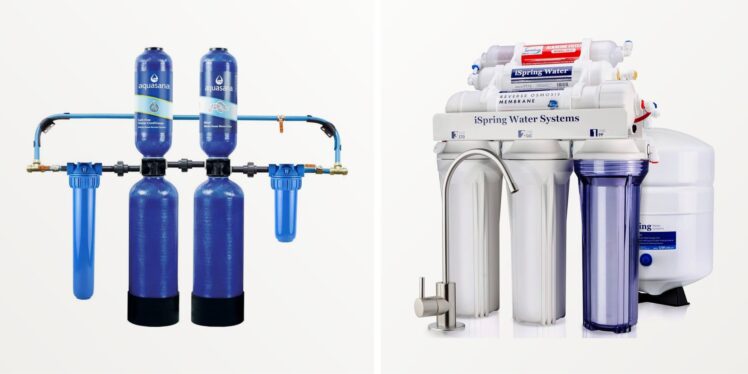 How can I check how hard my water is?
The easiest way to do this is to contact your local water supplier for the test. However, you can also do this by yourself by purchasing tests in the store.
There is also a soap test which can be done easily. All you need to do is fill one-third of a bottle with water, add liquid soap and shake the bottle for a couple of minutes. If the water lacks bubbles afterward or it is cloudy, it means your water is hard.
Are water softeners healthy?
Yes, they are. The bottom line is that most people can drink both hard and soft water without consequences, although higher sodium levels might be a concern for some. Having a water softener bears more importance for the health of the nails, hair, and skin since hard water can damage them.
When should I replace water softener resin beads?
The water softener resin beads typically last between 10 and 15 years. The replacement is required once you notice that water is not soft anymore and that softener regenerates slowly and runs out of soft water quickly.
Is softened water safe to drink?
In the majority of cases, yes. However, softener's salt is used to soften the resin that acts on water, and in this type of water, sodium level gets increased, so that might be concerning for people that experience problems with higher blood pressure.
What are the benefits of cooking with softened water?
Cooking with soft water grants you that food remains true to its flavor. It also ensures that the water is free of minerals. For example, hard water may result in a stiffer meal when cooking dough.
Final Words
Hard water leaves various consequences to your appliances, plumbing, and in some situations, even your health. If you are tired of the result it leaves on your hair, nails, skin, or plumbing, investing in a top-notch softener is a very smart decision.
We hope our article will help you make the right choice. Consider the options we offered, ponder on the space the water softener requires and look for second opinions and extensive, in-depth reviews. Once you get the appropriate product, you will preserve the water quality in your household, and in our list, you will indeed find the one that will suit your every need.