Growing a lush and beautiful grass lawn is a task that demands a lot of devotion, maintenance, and care. Apart from the human factor, grass growing is largely dependent on the quality of the seed you purchase.
When you walk into a local store in the United Kingdom that sells grass seeds, you are left with the thought that there are only a couple of options you can go for. However, this is not the case, and there are numerous options to choose on the internet and in well-supplied stores.
All the maintenance in the world will not be of any help if you pick the bad seed, and since there are so many choices available, choosing the right one may be a daunting task. In order to help you to pick a proper one for your grass lawn, we have made a list of the best products your money can buy.
List of Best Grass Seed in UK
1. Super Speedy Grass Seed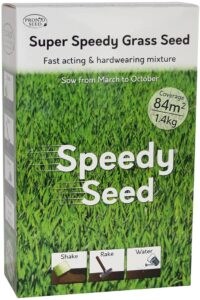 This grass seed comes from the Pronto Seed store. It is suitable for the United Kingdom climate and starts growing very fast. You will be able to see the results between 7 and 14 days after you plant it.
This seed will help you grow high-quality, deeply rooted, and DEFRA-approved grass that is highly resistant to weeds. It comes in 1.4 kg packages that cover up to 84 square meters. Great for bare patches and repairing damaged lawns, you will notice the difference after just a couple of weeks.
It is an excellent choice for buyers who do not have any gardening experience since it does not require much maintenance. Water it sufficiently using a fine spray throughout warm and dry days, and you will certainly be happy with the results this seed provides you with.
2. Grow Pure's Fast-Growing Premium Lawn Seed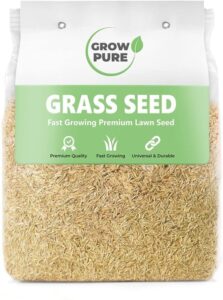 Grow Pure's grass seed comes in a generous-sized package. It is DEFRA-approved and perfect for UK climate that tends to be unpredictable. This grass will grow in hot, cold, rainy, or dry weather effectively.
This grass grows dense and thick. It is a great choice for patching up damaged lawns or growing new, lush ones. It is an absolute bargain when you measure the price and the value you are getting for it.
The seed will take roughly two weeks before starting to grow, but this is something that largely depends on the climate and maintenance. It is pet-friendly and visually appealing once it develops fully. Make sure to store these seeds in a cool and dry place and use them within a year after the purchase.
3. Gro-Sure Aqua Gel Coated Smart Grass Lawn Seed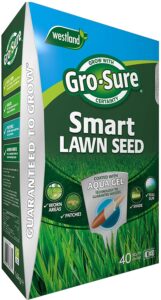 Gro-Sure seeds are an exceptional choice for patching damaged lawns as it is for growing new, fresh ones. These seeds are covered with aqua gel which ensures a smooth growing process. It grows effectively in unpredictable climate areas and will succeed in the sun and shaded areas.
This seed is an excellent pick for hard-wearing areas. The best period of the year to plant it is when the temperature is between 10 and 18°C in UK. It will soak up to 400 times of its weight in water, after which the moisture slowly gets released to the seed, which drastically improves chances of germination success.
This will effectively protect the seed from overwatering. Make sure to read the instructions on the package carefully to get the best possible results. If you do everything right, expect the results within only a couple of days.
4. Miracle-Gro EverGreen Fast Grass Lawn Seed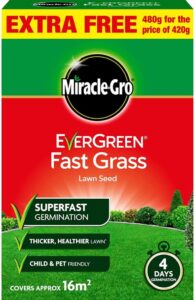 Coming from the Miracle-Gro EverGreen store, these seeds offer you incredible results after only a couple of days. These results are the product of Headstart Gold, a coating that speeds up the process of growth and germination.
Planting is really simple, so make sure to read the manufacturer's instructions on the pack. After you have planted, make sure the soil is moist for the next couple of weeks to get the best production out of it.
It is best to do this when the outdoor temperature is not too high or too low. For the amount of product you get upon the purchase and quality of the seeds, it is an absolute bargain. This seed will provide you with a strong, dense lawn with powerful roots. It is suitable for all types of lawns and great for patching and repairing damaged ones.
5. GroundMaster Hard Wearing Pro Premium Lawn Seed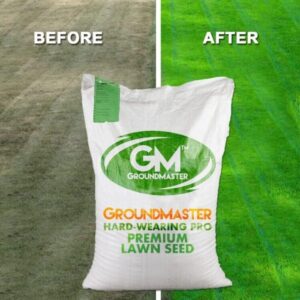 This GroundMaster seed is an excellent pick, whether you want to create a brand new lawn from scratch or just to repair an existing one. Although it is a bit more costly than competition seed, it provides you with impressive results in a short time span.
When purchasing, you can choose between 1, 5, 10, 15, 20, or 25 kg packs. After planting, if the ground is moist and warm, the grass will start growing in a time span between 5 and 10 days. The result of the seed is beautiful thick grass with strong and rich color that will make your neighbors blush with envy.
It is also hard wearing and can endure your children and pets playing on it. To get the best results, make sure to level the soil before planting the seeds since leveling will make the grass spread more evenly. If you plant it during hot months of the year, make sure to water it regularly.
6. A1 Lawn Multi-Purpose Grass Weed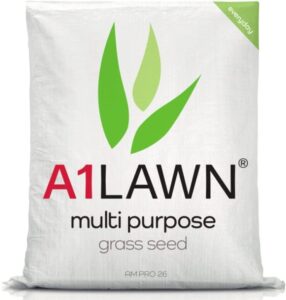 A1 grass weed can be bought in packs of 5 that can cover approx 142 square metres, and 10 kg, which can cover roughly 280 square metres. It is tough grass that is specifically good for high-traffic areas. Being hard-wearing, it is perfect for all types of households with big families.
You should avoid sowing it in hot, dry, or cold conditions to get the best results. Expect germination to start within 20 days after you have done everything that the manufacturer's instructions demand. If you want to patch a damaged lawn, you will require 20g per square metre, but you will need 35g per square metre for brand new lawns.
In order for sowing to take effect, the temperature of the soil must be above 7 degrees and to be sown prior to sustained rainfall. Moisture is the key to germinating process, so if you are sowing this grass during dry periods, it is crucial to water it regularly. If everything is done right, the lawn will grow dense, lush, and will have a rich green color.
7. MOOWY Power Lawn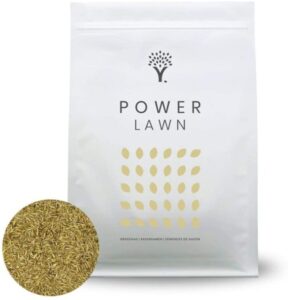 This grass seed comes from the company that delivered its product for most of the stadiums during the football World Cup in 2018. It is the premium quality seed that can be bought in three different packs that cover 50, 100, and 250 square metres.
To get desired results, you should follow the manufacturer's instructions on the pack. The basic rule is to start the sowing process only if the temperature is 10 degrees or above. Make sure that thatch and other dead organic materials are removed from the soil.
Finally, you should press the seed into it and keep it moist for the germination to take full effect. You should expect first sprouts within a week or two if you did everything right. These grass lawns are perfect for unpredictable United Kingdom climate, and they grow lush and rich in color.
8. Gardeners Hard-Wearing Lawn Grass Seed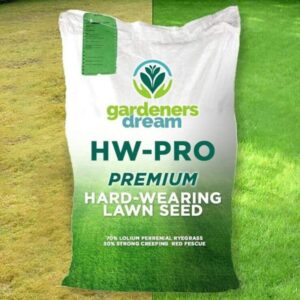 This grass seed comes from the GardenersDream store and offers you packs of 1, 5, 10, 15, 20, and 25 kilograms. These seeds will provide you with a thick, lush, hard-wearing lawn that will last throughout the year.
You can get the best growing results if you sow on warm and moist soil. Make sure to remove thatch from it and to use compost. You should notice the first results within ten days if you do everything according to the manufacturer's manual.
This seed is excellent for starters and amateur gardeners since it gives fast results and does not require a lot of sowing preparation. Make sure to water soil heavily and to cover it with compost. It will respond very well and provide you with a dense and colorful lawn.
9. FinchMill Premium Fast Growing Grass Seed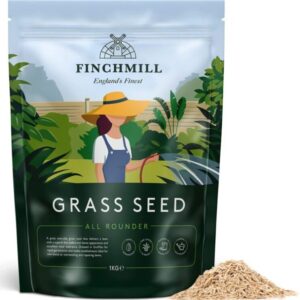 FinchMill grass seed is an excellent choice for the UK climate. Seeds come in 1 kg packs and can cover up to 50 square metres. It is very effective for overseeding, repairing damaged lawns, or growing new ones; it grows lush, rich in color, and healthy.
It is highly resistant and durable so that you can grow it in shaded and sunny areas. Growing this grass is a pretty simple process. You need to prepare the soil by raking it and removing debris for the best results.
Sow the seeds evenly using 30 grams per square metre for new lawns and 20 grams for repairing damaged ones. After the sowing process, make sure to water it regularly and to mow after the grass reaches 8 cm height. The grass has high disease tolerance and grows very thick.
10. Westland Safe Lawn, Natural Lawn Seed

Coming from the Westland store, this grass is pet and children-friendly, and you can choose packs of 5.25, 2.8, and 14 kilograms. These seeds possess all the necessary nutrients to grow beautiful and lush lawns during spring and summer.
Westland Safe Lawn has organic nature that strengthens soil's structure and increases the number of microorganisms necessary for healthy growing conditions. Adding the right amount of Nitrogen will make the grass greener and denser. It will also strengthen it to compete with weeds and moss. The content of the pack has a strong smell that might attract your pets, so it is advised to water in the product, which will reduce the attraction to it. After you finish the sowing process, water the soil regularly for the best effect and highest growing potency.
Buying Guide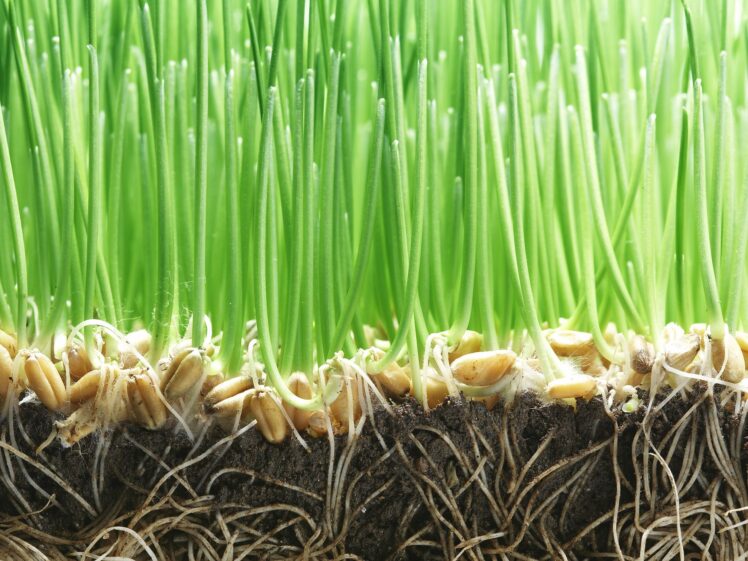 There are various factors that make a good grass seed. Choosing the right one can be a daunting task, and even after you make a purchase, you need to sow it properly and go through the germinating process. All of this can prove quite challenging, so to help you and walk you through the whole process, we have put together a brief buying guide.
Choose climate-appropriate seed
Picking the seed that can succeed in your country's climate conditions is of the essence. Make sure that the seed you are purchasing has a successful growth rate in the United Kingdom. Otherwise, you will get stuck in futile attempts to grow it when the climate will simply not allow it to. You can run a cultivar evaluation test to ensure which grass species have a successful growing history in your area.
Make sure to test the soil
Testing soil on which you plan to sow the grass is highly important. The soil test will determine whether or not the lawn will thrive once you start growing it. Test results might take up to two weeks to be completed, so make sure to do this on time. Once you have received the results, you can choose the proper seed accordingly.
Shade tolerance
Make sure to check the shade tolerance of the grass species before purchasing seeds. Not all types are shade tolerant and require a lot of sun to germinate. Some have partial or full shade tolerance. It is important to read the manufacturer's manual and instructions before spending any money to avoid being stuck with seeds that will not grow unless they are fully exposed to the sun.
Amount of product
Most of the grass seeds can be bought in different packs containing different amounts of product. The necessary amount of seeds varies depending on the lawn's density you want to achieve and on how big the surface you want to sow on is.
Frequently asked questions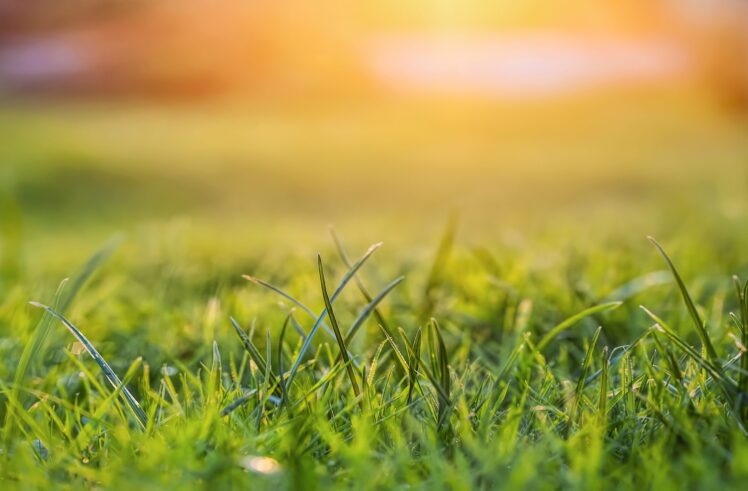 How much grass seed do I need for my lawn?
It depends on how big the surface you want to sow it on is. Typically you need 30 grams per square metre for new lawns and 20 grams per square metre for patching up damaged lawns.
How much watering does the grass seed require to take in?
This factor depends on the climate you are in. The seed starts germinating fast when it is sown on warm and moist soil. In the United Kingdom, it is best to sow it during spring before the rainy period, but if it does not rain, you should water it every day for the best possible results.
When will I see the first results after planting grass seeds?
It depends on how well you have prepared the soil and how good the weather conditions are. Most of the seeds we have listed will give you results within 2 weeks, but you can notice the first sprouts after only 5 days in some situations.
How should I prepare the soil before planting the seeds?
Make sure to rake the soil and remove thatch and all dead organic materials from it. You can mix seeds with compost for better effect and use pre-emergent herbicides. Bear in mind that pre-emergent herbicides have the best effect on specific soil temperatures, so always read the manufacturer's instructions.
Final Words
Picking the right grass seed certainly is not the most complicated thing in the world, but it does require certain preparations and knowledge to make the right choice. This is a process that takes multiple steps, so take your time to explore your options and do in-depth research.
We hope our article will help you in this process. We have picked seeds that have an excellent growing history in the United Kingdom, and without any doubt, you will find the appropriate pick in the list above.