Regardless of the size of your garden or lawn, weeds can create problems and get pretty much anywhere and destroy your hard work. Dandelions, crabgrass, and other similar species will pop up everywhere, from your garden's flowerbeds to cracks in your decking. If you want to preserve beautiful gardens and lawns, killing these pesky weeds is of the essence.
Herbicides or weed killers will provide you with precisely what you need. You can find many different formulas that suit different needs, and sometimes, it can be overwhelming to figure out just which product you need to use. Luckily, we got you covered, and in this article, we will discuss some of the best weed killers you can buy in the United Kingdom.
List of Best Weed Killers in UK
1. Weedol 1 litre Lawn Weed Killer Concentrate Liquid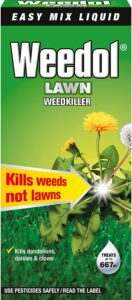 Weedol is one of the most efficient weed killers you can find in today's market. It is especially effective against dandelions, daisies, and clover, and it can cover up to 667 square meters.
Applying it is quite simple with a sprayer or any type of water can, and you get a lot of uses from the single pack. Mixing 15 ml of Weedol with 5 litres of water can cover roughly 10 square metres.
This product is highly effective against weeds that are difficult to control, and it is often used in the professional sports turf industry. It will do the job without harming the lawn or your flower beds. Although the price might be a bit higher, it is worth every penny for its efficiency.
Pros
Effective against weeds that are difficult to control
 You get multiple uses from a single can
Easy to use
2. Roundup Fast Action Weed Killer, Clear, 1 Litre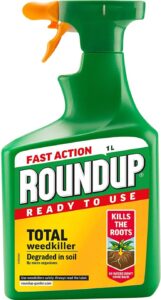 Fast Action Roundup, as the name indicates, will give you speedy results. Within just a couple of days, you will notice the difference in your garden. It is highly effective against most of the garden needs after just one application.
It is equipped with a pump 'n go sprayer, and you can use it straight from the bottle once the product arrives at your address. There are two settings on the sprayer, one for softer spray and the second for better precision. You should apply 3 minutes continuously with a 2.5 litre pack and 10 minutes with a 5 litre pack for the best effect.
This product will get rid of deep-rooted perennial weeds efficiently at a fast pace. You can use it in gravel areas, paths, gardens, and drives along fences. Apply Roundup in calm conditions so you can avoid drifting onto cultivated plants. After you have applied this product leave weeds for 7 days before digging or soil cultivation.
Pros
It gives you fast results
Is cost-efficient
It comes with pump 'n go spray
Cons
Can cause serious eye irritation
3. Resolva 24H Ready To Use Weed Killer, 3 Litre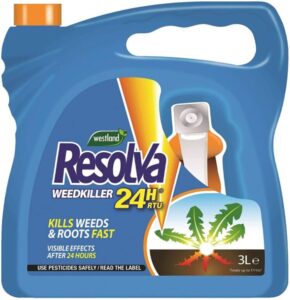 Resolva Weed Killer is a product that gives you visible results within 24 hours after use. It is highly effective against all deep-rooted perennial weeds and their roots. Once you naturally break it down into the soil, it will leave no residues.
Applying it is fairly easy with a built-in stream spray option, which enables you to target unwanted grasses with high precision. A single pack can cover up to 105 square metres. This is one of the best products you can use to get rid of pesky weeds such as dandelions.
In order to get the highest and fastest effect from it, it is best to spray on sunny and dry days since hot temperatures might be one of your best allies to burn the weeds down. However, it might not have the best effect on tall and skinny grass, but you can find other Resolva products that are specifically meant for this type of use.
Pros
Takes effect within 24 hours
 Good against visible weed and its root system
Leaves no residue
Cons
Has a weak effect on tall and skinny weed
4. Barclay Gallup Home & Garden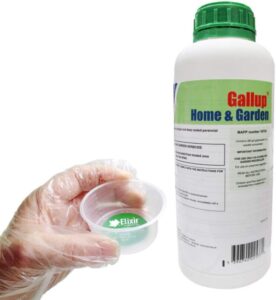 Gallup Home & Garden comes from Elixir Gardens Store. It is one of the most efficient products for unwanted grasses in the United Kingdom. One litre of this product can cover up to 1666 square miles.
Gallup Home & Garden is highly effective against weeds such as docks, willow herb, dandelion, or bindweed. One appliance will get you fast results without the need for re-applying. The product comes with a complimentary cup and gloves.
Avoid using this weed killer during windy days to prevent damage to valued plants you have in your garden. You will get the best effect if you apply the product when the weeds are actively growing. It leaves no residues, and you can re-plant on the soil you have applied Gallup, 7 days after use.
Pros
Comes with complimentary cup and gloves
Does not require re-appliance
Versatile product
Cons
Effect of the product might be decreased on lower temperatures
5. Weedol 10005 Ultra Tough WeedKiller Liquid Concentrate 6+2 Tubes, Black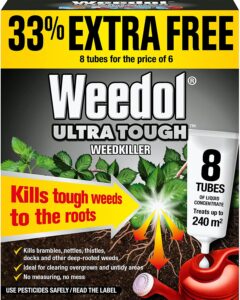 This product comes in liquid concentrate tubes that are fairly easy to use and require no precise measuring before an appliance. When it comes to this product, patience plays a big role, but it is well worth it. It will take a couple of weeks for the liquid concentrate to take effect, but it will kill those pesky weeds dead when it does.
Weedol will effectively kill brambles, thistles, docks, nettles, and other deeply rooted grass with high efficiency. Simply remove the top of the tube, mix it with water, and apply evenly for the best effect. For applying, you can use a watering can or sprayer for better precision. Follow the instructions carefully, apply, and have patience. After 2-4 weeks, you will see the results.
Pros
Simple to use
Leaves no mess
No need to measure the product
Cons
Takes a couple of weeks to take effect
6. Vitax SBK 1L Brushwood Killer Tough Weedkiller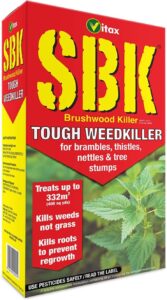 Coming from Vitax Ltd, this weedkiller is highly effective for brambles, dock, woody weeds, hardwood saplings, and tree stumps. This liquid formula is very simple to use, and the appliance takes a small amount of time.
It is an excellent product that works exactly the way it is written on the package and comes in a concentrated form which you should mix with water. The product is most commonly used in woodland areas, and you can purchase packs of 125 ml, 250ml, 500 ml, 750 ml, and 1 litre.
The appliance should take place in months between May and October. It is best to use when weeds are growing actively and the earth is wet. The product should take effect within six weeks after the appliance.
Pros
Can be used for woodland areas
Kills brambles within a few days
Is easy to use with a sprayer
Does not kill grass
Cons
Cannot mix with other weedkiller
7. Rootblast Super Strength Weedkiller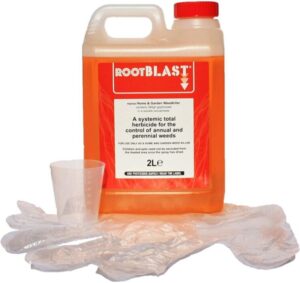 Rootbalst weedkiller is an exceptional product suitable for homeowners and users with big estates that require a lot of ground maintenance. It is perfect for annual and deep-rooted perennial unwanted weeds. Rootblast will eradicate brambles, docks, nettles, willow herbs, or dandelions with ease.
Although it is pricy, it will make your money's worth. You will likely need to wait between 2 or 4 weeks for the best results, but it will kill all those pesky weeds dead when the product starts working.
Rootblast can start working even sooner, but it largely depends on the type of weed you are trying to eradicate. Its effect does not last forever, and you will need to apply it monthly to the areas you do not want any green plant life.
Pros
Suitable for owners of big estates
Amount of product covers a lot of ground
Good value for money
8. RHS 5L Weedkiller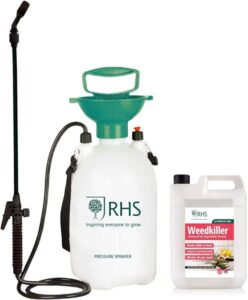 RHS is one of the most effective, pet-friendly weed killers available in the market. It comes with a pump-spray that is simple to use and sprays the product evenly. Depending on the area you have to cover with it, you might need to purchase an extra bottle. Regardless, it is very effective and gives you results within just a couple of days.
It is an irreplaceable product for both annual and perennial weeds, with its bio-degradable formula that is glyphosate-free. Apply the product completely and evenly with the sprayer. It only kills the foilage of moss and weeds, not the roots, so re-appliance might be necessary, especially for perennial weed species.
Pros
Pet-friendly product
Glyphosate-free
Easy to apply with a sprayer
9. Organic Weedkiller – Glyphosate Free Formula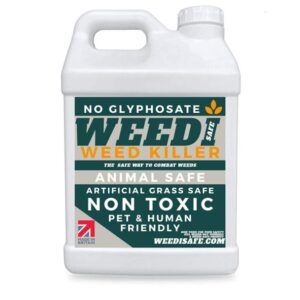 Coming from the Weedi Safe store, this product offers you a fast and effective solution for surfaces overgrown with pesky weeds. You will be able to see the effect only a couple of hours after the appliance.
It is highly effective against unwanted weeds but might not be as efficient against deeply rooted perennial species. The 50/50 dilution works very well, especially for the amount of product you are getting.
It is quite easy to use with a proper dispenser that will grant you enough precision. Surface leaves will die in a matter of hours. However, the product does require re-appliance after several weeks because it does not kill roots.
Pros
Organic
Pet-friendly
Non-toxic formula
Cons
The appliance might be time-consuming since the product kills both weeds and grass
10. Job Done Tough Weedkiller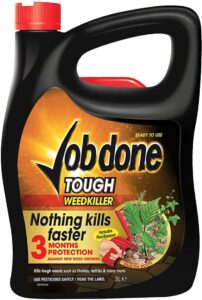 This systemic and residual weed-killing solution comes from the Job Done store. It will effectively get you rid of deep-rooted, unwanted weeds such as brambles, thistles, creeping ivy, and many, many more.
You will see the results only 24 hours after the appliance, and your soil will stay protected from pesky weeds in the next three months. It is especially effective for uncultivated plots that are overgrown. It is great for patios and driveways.
The product takes effect on these surfaces within only a couple of hours. To get the best effect out of it, spray on dry and hot days so that the weeds can burn more easily. It is easy to use, and the sprayer will cover all foliage.
Pros
Fast and effective
Especially good for uncultivated plots
Good for patios and driveways
Cons
Contains benzisothiazolone that can cause allergic reactions
Buying Guide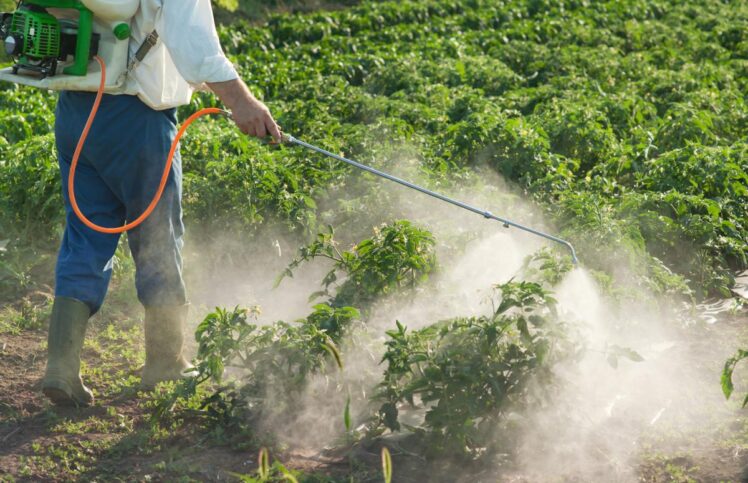 A wide choice of weed-killing products can often be overwhelming both for casual and professional gardeners. There are many important features to take into consideration, so you will definitely need some help and second opinions to choose the right product. To help you with this endeavor, we have put together some guidelines that you should follow in order to make your money's worth with this purchase.
Plant type is crucial
Most weed killers target specific types of plants, so it is vital to read the manufacturer's instructions to determine which weeds the product can kill. If you are looking for weed killer for your lawn or vegetable garden, it is also essential to check if the product won't kill edible plants or grass from your lawn.
Longevity of product's effect
Some products are more effective than others. Longevity of effect is of high importance, so make sure to check how long does product keeps weeds down. Some products may only do superficial damage to weeds leaves and not kill their roots, which will make them grow again and again.
Bottle size
The amount of product is yet another important thing to consider. Buying the bigger bottle does not mean you will get the best effect out of it since some products require fewer appliances for a more significant impact. The amount of weed killer might be vital if it requires to be re-applied monthly or weekly, so measure just how much of product you need before spending money.
Weed growth prevention and weed killing
It is significant to check if the product you are purchasing is completely killing the weeds or just preventing the growth for a certain amount of time. For example, some products might be only useful for removing surface weed leaves but will keep their roots alive. Make sure to read the manufacturer's manual to make sure what exactly the product does.
Frequently asked questions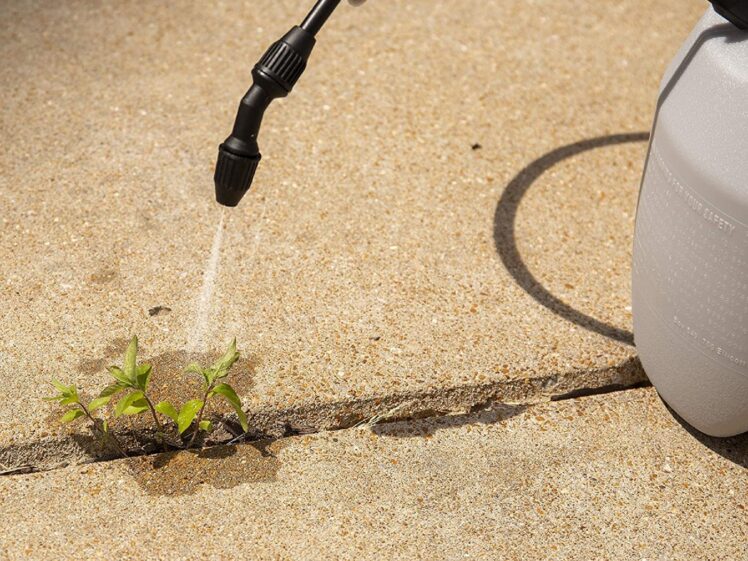 What period of the year is best to apply the weed killer?
It is best to apply the product during springtime to catch the weeds in their pre-growth stage. They are most vulnerable during this season, and the weed killer will give you the best effect at this point.
Are weed killers safe to use if you have pets in the household?
Typically it is not safe. It is best to wait until the product has dried out before letting your pets roam around the sprayed area. There are also organic and non-toxic products on the market which are pet-friendly. Make sure to read the manufacturer's manual before using the product to make sure it is safe.
Will weed killer destroy my grass lawn?
Not necessarily, but many weed killers are non-selective herbicides, meaning that they will harm your grass lawn if not sprayed precisely on weed leaves.
Can weed killer expire?
Most of the weed killers keep their potency throughout months, even years. This factor largely depends on how well you store the product. It is best to put it in a dry and cold location to get the most of it for a longer period of time.
Which weed killer should I purchase in UK stores?
All of the products we have listed are top-notch in quality and are tested by hundreds and thousands of customers. If you are uncertain which product you should go for, we recommend you the Weedol 1 litre Lawn Weed Killer Concentrate Liquid, which is highly effective and easy to use.
Final Words
Gardening and lawn maintenance are certainly no easy feat. Getting rid of pesky weeds can take months, and getting the right product for it can take even longer. Make sure to do educated research before spending the money on it.
We hope our article will help you in picking the right product. It is a daunting task, but one that is well worth your time since it will provide you with beautiful, neat lawns and colorful gardens.