When choosing the appropriate dog collar, a lot of factors come into consideration, not just the color and cost-efficiency. You should contemplate size, or if it comes with a leash, can you track your four-legged friend with GPS and many more interesting and useful features.
Being a dog-lover, you always want the best for your loyal pet, and picking the very best might prove to be an overwhelming task. The goal is that the collar is functional, stylish, and visually appealing as well.
To help you get the finest possible product for your loving pet, we have put together a list of the best dog collars on the British market nowadays that money can buy. You will surely find your favorite and best match for your four-legged friend in the section below.
List of Best Dog Collar in UK
1. Silicone Collar Flashing LED Light for pets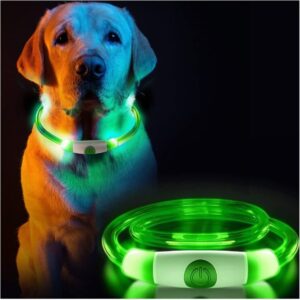 Coming from the Just Pet Zone store, this silicone collar is equipped with LED lights in 5 different colors – red, blue, green, pink, and purple. It is 70 cm long and can fit pretty much any dog.
There are 3 different light modes that can be switched by pressing the button. You can pick steady glow, quick, and slow flash. Dogs tend to run and play when you walk them, and with this product, you will be able to notice them in the dark every time.
This silicone collar is durable and firm. The tube part is waterproof, but bear in mind that the battery and charging area is not, so keep it closed and away from moisture.
The battery can be charged via USB for 40 minutes maximum. Excessive charging will reduce the performance, so do it only when necessary, and do not keep the collar on the charger for too long.
2. Kismaple Adjustable Pet Collar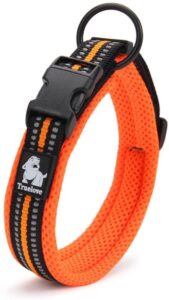 Kismaple dog collar is available in 10 different colors and 8 different sizes, among which you will certainly find your favorite. The collar is made of soft, high-quality nylon that will protect your dog's neck and provide him with top-notch comfort.
The buckle is durable and can be adjusted for different pet neck sizes. It is breathable, lightweight, and highly versatile. The webbing of the collar is made of 3M reflective materials that will grant excellent visibility, and you will be able to locate your dog during nighttime walks.
A wide ergonomic design will ensure your pet's ultimate comfort and protection. It is a cost-efficient and very popular choice.
3. Halti Collar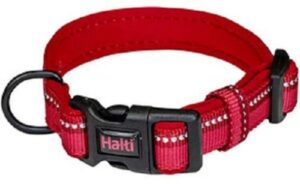 Halti collar comes from The Company of Animals store and has four available colors to choose from. There are also four different sizes available – extra small, small, medium, and large. It is affordable and offers you an excellent price/value ratio.
The collar is highly versatile and has a neoprene handle for ultimate comfort. The base of lead is a highly durable and strong shock absorber, which provides both owner and pet with protection from surprising jolts.
The lead length can be easily adjusted with a simple click. The collar is extremely sturdy and looks great on all breeds. Reflective strips will make your dog always stand out and be visible in different in a variety of conditions.
4. Ancol Timberwolf Leather Collar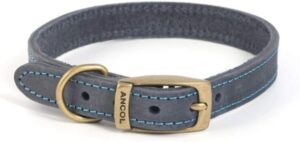 This leather collar is coming from the Ancol store, and it is available in blue color. You can choose the size that will fit the dog that has a neck between 36 and 46 centimetres. It has a buckle closure type and provides your dog with excellent comfort.
Top-grain bridle leather has been masterfully hand-crafted and made in the United Kingdom. It is a beautiful accessory for any dog breed. This collar has a 3M leather protector, which prevents it from moisture staining and getting dirty, and nylon thread adds more durability and strength.
In time the leather will soften, but a collar can take quite a lot of beating and punishment, be it high exposure to water or sand stains. It looks and feels like a much more expensive product, but it is cost-efficient and gives excellent value for the price. If you take your dog swimming, you don't have to worry much about the durability of this collar.
5. HEELE Dog Collar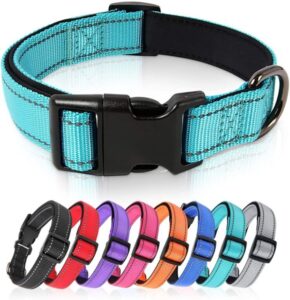 Heele dog collar is available in nine different colors and four different sizes for you to opt for. The collar is highly breathable, robust, soft and is an exceptional choice for dog walking and training.
The color of the straps is reflective, so you will always spot your dog with ease during night walks. The design is fashionable and elegant, making your four-legged friend always stand out from the crowd.
The buckle is made of sturdy, high-quality plastic. You can release it with one hand and easily put it on and off. The collar is made of durable, flexible top-notch nylon that will feel comfortable on your pet's neck.
The lead clip is fairly strong and has a nice, shiny plate finish. The collar slips over the dog's head, and in case it becomes undone, it will not fall off.
6. TaiHong Personalised Dog Collars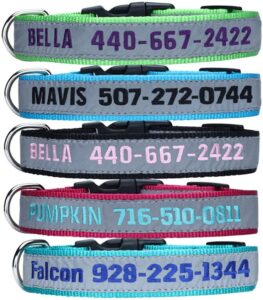 This custom dog collar is excellent if you have pets who like to wander off during walks since you can order it personalised, with your name and cell number, making it easier to track them down.
You can choose one of many currently available colors, and there are four adjustable sizes you can go for – extra small, small, medium, and large. Pet names and phone numbers can contain up to 25 characters.
The collar is made of durable, high-quality nylon fabric. It is equipped with reflective materials that enable high visibility throughout nighttime walks.
The product is well-made, comfortable, and looks fashionable for different dog breeds. The reflective tape will wear off in time, but it will not compromise the quality and sturdiness of the product.
7. Lionet Paws Cotton Dog Collar with Bowtie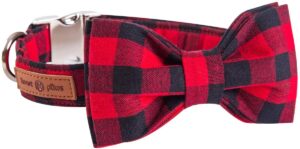 This adorable bowtie dog collar is available in eight different colors and six different sizes, among which you will surely find your favorite. The product is soft, comfortable, and made of high-quality, durable cotton fabric.
The D rings are very strong and durable, while the buckle is made of stainless steel. All Lionet Paws collars are handmade and unique. Elastic straps keep the bowtie attached to the collar, but they can be separated if you prefer.
The bowtie can also match with other types of dog collars. Collars can be washed in the machine, but bowties cannot, so just rinse them with mild detergent or soap mixed with warm water.
8. Olijo Padded Dog Collar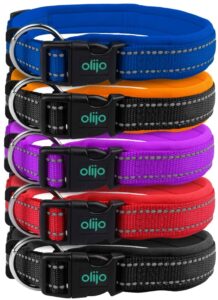 Olijo dog collars are available in five colors and four different sizes. It provides your dog with ultimate protection and comfort during walks and/or training. The straps on these collars are reflective, ensuring that your dog will stay visible during nighttime walks.
Safety buckle is of excellent quality, and it is designed so it cannot come loose unless, of course, you do not want it to. The inside and edges of the collar are very comfortable and do not cause irritations on your pet's neck.
The size can be easily adjusted to your dog's neck size. This is an excellent feature, especially if you have a dog that still grows, so it can serve you for a more extended period.
The collar is made of sturdy, durable nylon and breathable Neoprene. The materials can be easily washed and dried without leaving an unpleasant odour.
9. PetIsay Ultimate LED Dog Collar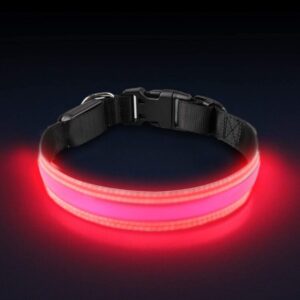 Coming from the Petlsay store, this collar can be purchased in three different colors, and you can pick one of three sizes – small, medium, and large. The collars can be recharged via USB, which will provide you with between 7 and 8 hours of illumination.
One charge lasts roughly 2 hours, and you should do it fully before the first use. The light is excellent and provides you with quarter-mile visibility. With this product, you will always have eyes on your pet during night walks. There are also 3 different lighting modes – steady, fast flashing, and slow flashing.
The collar is water-resistant but not fully waterproof. LED lights are very bright and can be easily be noticed, which is the biggest selling point. The collar is well made, and the materials are durable and top-notch in quality.
10. PcEoTllar Reflective Dog Collar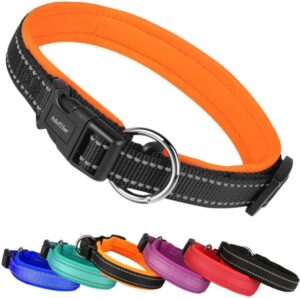 This reflective collar is available in six colors and five different sizes. It comes from the PcEoTllar store that offers a wide variety of pet products. The buckle is made of plastic and is adjustable, making it an excellent choice, especially if you have a dog that is still growing.
The materials used in this collar production are robust yet lightweight and soft. They are also skin-friendly and will not hurt your pet's skin and fur in any way. The collar can easily be washed with mild soap and warm water without leaving any unpleasant odours.
The collar is luminous and reflective, which makes it stand out in the dark, so you can always have eyes on your pet. The O ring on the buckle is made of stainless steel, which provides more strength, and will not detach accidentally. It has a quick-release button making it easy to come on and off.
Buying Guide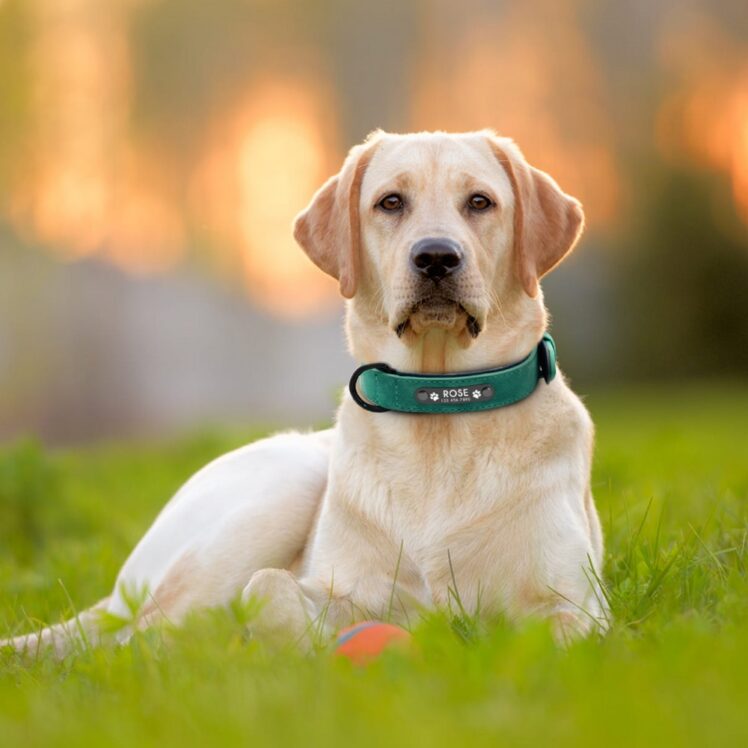 Before buying the collar for your four-legged friend, it is essential to do thorough research and read various customer reviews to get the best possible product available in the United Kingdom.
Although the collar might seem a minor thing, you will still end up spending money on it, so it is important to pick the long-lasting, quality item. To help you in this process, we have put together some vital guidelines you should follow in order to purchase the best dog collar for your money's worth.
Fit
A good fit is of the essence when picking the appropriate dog collar. Make sure to measure your pet's neck size to get the perfect match. Inadequate size might cause your pet's discomfort, be it too tight or too loose.
Look for materials that can stretch or collars that have adjustable buckles so you can customize the length according to your pet's neck. If you are uncertain on how to measure your dog's collar, look at the following video.
Design
Choosing the right design largely depends on the functionality you require from the collar. Some products are designed to correct dogs' behavior, while others are used to hold tags or simply get attached to a leash.
There are numerous possibilities, so make sure to do quality research and decide what functions your dog collar needs.
Comfort
A collar for your dog should never irritate or itch. Look for collars that are made of high-quality, hypoallergenic materials. The most popular choices on the market nowadays are leather, nylon, or neoprene.
Safety
When you take your pet to a walk, you want it to relax both you and the dog. This is especially important during nighttime walks since dogs tend to wander off sniffing bushes and to explore various objects.
To avoid stressful situations and always keep an eye on your dog at all times, you should opt for collars that are made of reflective materials. LED illuminated collars are also an excellent option, and they can be visible in the dark at very high distances.
Frequently Asked Questions

How do I measure my dog for the collar?
The best way to do this is by using a cloth measuring tape on your dog's neck. Make sure that the tape is not too tight or too loose. Always add two inches to the collar size to get the ideal measurement.
Which collar is the best for nighttime walks?
It is important to get the collar that will enable you to see your dog in the dark if he wanders off. Go for the collars with LED lighting or reflective strips. Both types are visible in the dark, especially LED, because it grants you visibility up to a quarter-mile.
How should I clean the dog collar?
This depends on the collar material. Leather and silicone collars can be easily cleaned with a soft, damp cloth. Nylon ones are typically cleaned with mild soap and water. Some collars can be washed in the machine, so it is best to read the manufacturer's instructions to ensure how to do it.
Which collar should I purchase if my dog is between sizes?
If your pet is between sizes, the best option is to go for custom length. When this is the case, custom sizes are a better solution to make sure the collar is not too tight or loose.
What material is most comfortable for a dog collar?
The most popular solutions on the market nowadays are nylon, silicone, leather, or hemp. All of these are very comfortable and durable.
What type of dog collar is most durable?
Typically, leather collars can last the longest. Although leather type will outlast most nylon or silicone collars, it can wear or break down if it comes in contact with water often.
Final Words
Picking the appropriate collar for your dog should not be too much of a challenge. The most important factor, above all else, is your pet's comfort and that it matches its neck perfectly.
Once you have found the material that suits your four-legged friend, it shouldn't pose much of a trouble to pick the fashionable and visually appealing one. We hope our list and guide will assist you in this endeavor and that you will find the perfect product for your loving pet.