Are you a fan of unique jewelry? Do you like to shop quite often? Women love to invest in their high-quality key pieces. Some are all about gold and silver, while others are always looking for an ethical or sustainable label.
Where do you stand? The demand grew high in the last couple of years, meaning that shoppers have become a lot more aware of their surroundings and owned items, always aiming for a feature or cause that they support. Keep on reading and get more informed on sustainable jewelry. You'll enjoy all the facts that are written out down below.
What is sustainable jewelry?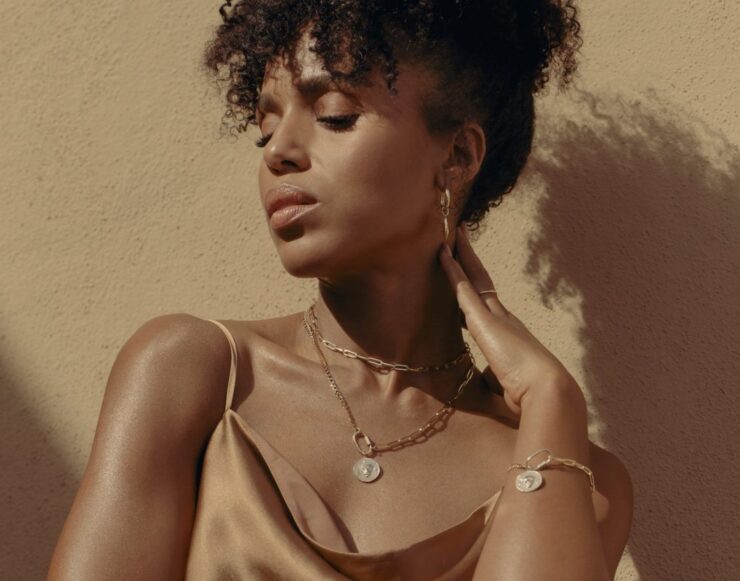 Sustainable jewelry is produced in a way that does not harm the Earth and is inspired by Mother Nature. This jewelry does not make a heavy impact on pollution or carbon footprint either.
Its main purpose is for you to achieve social, and environmental sustainability while feeling good and positive about your chosen or purchased piece. Reusing old gems, recycling, using scrap metal or other materials are just some steps that you can go for in creating an ethical brand.
7 Interesting facts to know about sustainable jewelry
1. Sustainability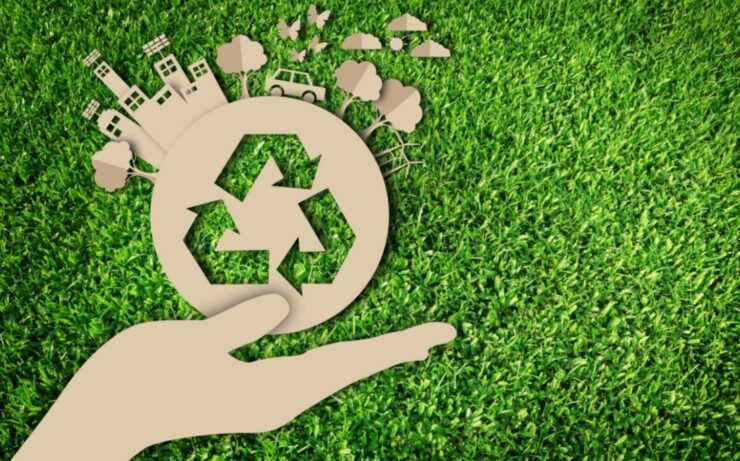 Do you know how this jewelry is made? The whole process begins with the recycling of old metals that can be found at your very own home. The process itself can be a challenge for some brands.
That is because you have to have the right equipment, knowledge, and resources to do the process. As a jewelry maker, you can reduce waste and their carbon footprint by sticking to recycled packaging and carbon-neutral shipping. You can create jewelry out of almost anything that is appealing and recyclable.
2. Ethical certificates
Within the gold mining industry, one can experience a lot of issues and complications, such as mercury or cyanide exposure, and high-risk health-related consequences when in a mine, surrounded by poor weather or hazard/chemicals.
Some ethical organizations can provide you and leave you with better conditions (both you as a shopper and miners), yet provide and create high-quality pieces. Always aim for something that is within your budget yet that has your ethical certificate.
3. Lab or ground-grown metals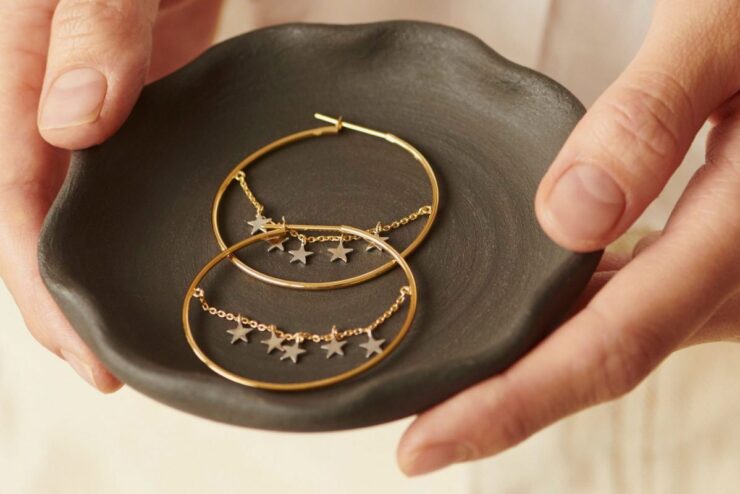 Nowadays, everyone is talking about lab-made diamonds, especially engagement rings. Even Pandora made this switch, which just tells you about brand awareness. People are a lot more eco-aware these days, and the influence of social media has a lot to do with it. The word gets spread out a lot easier, and aiming for durability and lab-grown diamonds has become a thing!
Lab-grown diamonds are manufactured in the high-heat conditions of a laboratory so you don't need to worry about their sourcing. Both kinds of diamonds have some pros and cons to them. Diamonds grown above ground with renewable energy can be something for you to consider as well.
4. Recycled stones
Precious metals like gold and silver are endlessly recyclable. Did you know that? This means that these can be reused for years and years and they will not lose their quality or much-loved shine.
Jewelry that is made from recycled material is still high-quality and is considered to be lower in impact than a brand-new piece. This is because it won't contribute to mining. Finding a reliable store or site that does this type of manufacturing is important for any jewelry business.
5. Low-impact processing + made to last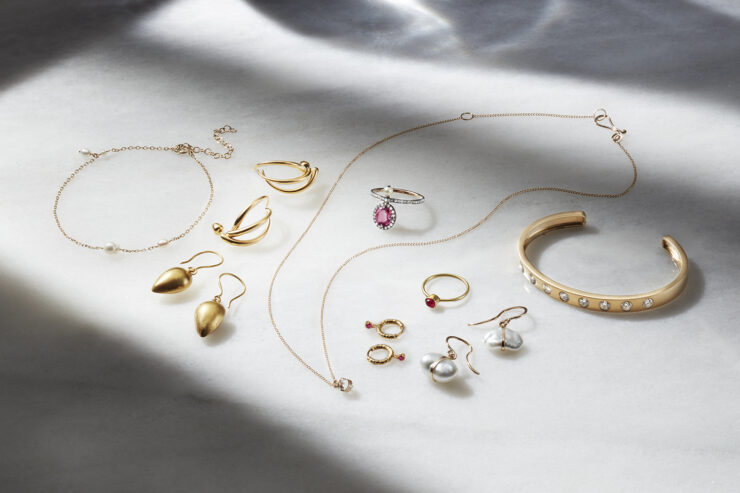 Once metals and gems are mined, they need to be cut, shaped, styled, and processed into your preferred piece. This is where a lot of energy is used alongside different chemicals (some are hazardous). Always look for companies that use low-impact processing and aim for someone who performs and runs on renewable power.
Sustainable jewelry is made to last and it will not fail you. Opting for quality over quantity is always a smart move when it comes to purchasing your next gemstone. Always aim for a style and cut that is timeless, yet high-quality and durable. You are paying for something that will last you for a lifetime, after all.
6. Understand all the labels
When buying online or in-person it is important to understand all the labels that are in front of you or marked on your chosen jewel. Some of them are:
Fairtrade certified: used to empower workers that put equitable pay and legal working conditions a priority.
Kimberly process: is used for diamonds, an international scheme that works with countries around the world.
Fairmined: is used for metals such as gold, silver, or platinum that come from small-scale mining communities that use sustainable extraction practices.
The gemological institute of America: this label is used for gemstones. A non-profit that evaluates diamonds, stones, or pearls based on presence and quality.
7. Regulations have changed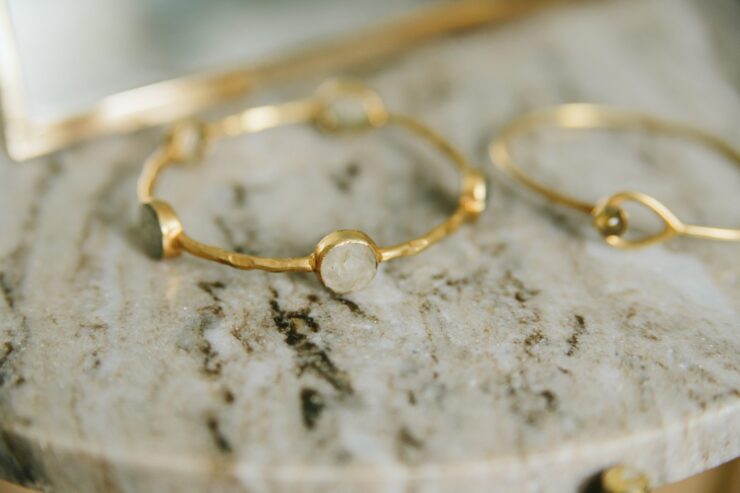 Ever since the Covid-19 era, everything has been looking different for both big and small brands. Nowadays, people want to be informed, aware and helpful the best way they can. In fact, in one survey 88% of people stated that they are happy to pay more to reduce the pollution from fashion product production.
Ethical jewelry was also a popular search word in 2023, meaning that shoppers worldwide have had a change of heart with their shopping decisions. In the near future, ethical and sustainable decorations will become a primary factor of consumers' choice.
Where to shop for high-quality and stylish jewelry?
Do you feel inspired and want to shop for eco-friendly and sustainable pieces a lot more now? If that is the case and you're looking for sustainable jewelry browse through this site and find here your perfect gem!
These pieces have been handmade by the sea on Whidbey Island, perfect for true sea and nautical lovers. There is a wide range in sizes, all high-quality metals, ethereal gemstones, and sustainable practices.
Browse through gorgeous rings, bracelets, custom chains, earrings, or necklaces – a bit of everything for everyone. Spoil yourself or surprise someone you love and who you know is obsessed with sustainable pieces.